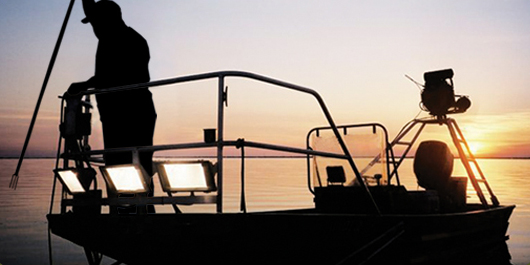 Flounder gigging in Rockport can be done on any portion of a shoreline, but the most productive areas would be oyster reefs or sandbars that extend from the shore into the bay as well as near the mouths of sloughs that dump into a bay.
We will gig flounder from the comforts of a 1st class flounder boat complete with Garmin GPS, 90hp Yahama, 20hp Honda air motor and an arsenal of lights above and below the water to light up the contour of the bottom to see the flounder clearly. We will gig big Rockport flounder from the bow of the boat without ever getting wet and just might gig a black drum or two while we are at it.
On your flounder gigging trip you will see sea turtles, sting rays, red fish and much more cruising the flats. This adventure is sure to bring a smile and lasting memories which is why many people come back for more. Also try out the Combo Fishing and Gigging Trip.
You will travel comfortably in a brand new 2008 custom made flounder boat powered by a 90hp Yamaha and 20hp Honda air motor, complete with GPS, coolers for easy flounder removal and several lights in and out of the water to light up the bottom. I will advise you in advance on the proper dress and if any additional equipment is necessary for your day on the water.